We're pleased to announce the latest release of the MindLink product suite, this includes the MindLink API, MindLink Desktop and MindLink Mobile.
In the theme of bringing our customers an enhanced experience using Microsoft Lync, Skype for Business (On-Premise) and Skype for Business Online each of our products have some newly added features, bug fixes and improvements.
Below is an overview of the newly added features, for the complete release notes for version 18.4 please click here. Furthermore, this article features brief commentary about the latest features and a sneak preview for our next release.
Version 18.4 Overview
MindLink API, an easier way to code your Lync or Skype for Business integrations/chatbots, is now able to send and receive rich message content parts – Think #tags and @Mentions!
MindLink Desktop, a feature-enhanced web client for Lync/Skype for Business, now includes additional user preference options. Users now have the ability to toggle the ordering of messages by unread count, and a toggle to show profile pictures in-line with messages.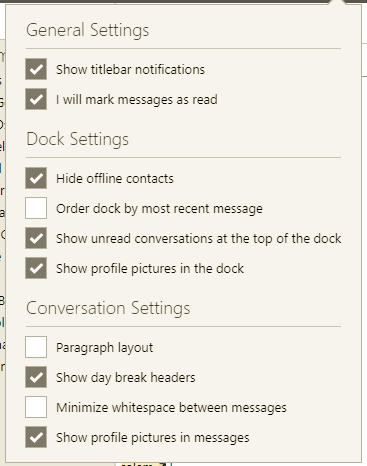 MindLink Mobile, the secure & containerised mobile client for Lync/Skype for Business that supports Persistent Chat, features improvements to the user experience in regards to message composition. Previous issues relating to typing, autocomplete and auto-correct have been addressed providing a smoother user experience on mobile devices.
The full list of new features has been included below, with some additional comments directly from the MindLink development team.
Version 18.4 New Features
Option to turn off unread count ordering in the dock for MindLink Desktop
The dock in the desktop app puts unread conversations at the top of the list. Users will be able to turn this feature off, so that unread conversations show in their natural place. Similar to the "order by most recent message" setting - An additional checkbox has been added in the global settings menu.
Options to show profile pictures inline in MindLink Desktop
Currently profile pictures are shown in the conversation header and user info screen. Profile pictures can now also, optionally, be shown in the dock and in the conversation history. User preference settings have been added to control each of these individually.
Sending/Receiving rich message content parts in the MindLink API
Bots have previously been able to send and receive rich message parts (e.g. hyperlinks) using the API, though this has been via a convoluted and largely undocumented mechanism.
This has been brought into a first-class supported mechanism to make it easier to send rich message parts.
This resembles part of the work to build a better bot ecosystem.
Add-in client published as public package
Having already offered a JavaScript library with which customers can write add-ins. Which was has previously been delivered ad-hoc without proper documentation or release processes.
This has been brought up-to-date with modern JS development by publishing the library as an NPM package.
Part of our work to build a better bot ecosystem.
Improved message composition experience in MindLink Mobile
Improvements have been made to the message input typing experience in MindLink Mobile. This addresses the typing/autocomplete/auto-correction issues in Android in particular. The message input components have been rewritten from scratch to deliver this, and this will cascade to desktop to fix several IE/Edge issues in due course.
Version 18.5 Sneak Preview
Having just signed off on the 18.4 release development efforts have already kicked off for the next version. Below is quick list of things to expect in the upcoming release.
Executive user experience for MindLink Mobile
Improvements to the user experience for MindLink Desktop, newly added submenus for contacts and groups
For more news about our upcoming releases, subscribe to our blog using the field below.
Want to enhance your experience with Microsoft Lync or Skype for Business, get in touch with us today!