Since the launch of V1, our product for both MLM and MLD has seen a variety of improvements to the UX. Following feedback from our customers we developed v3 which was released in 2016. New features have been added since the launch and continue to be added with each iteration.
As our product suite kept evolving, users would also find that both MLM and MLD brought parity to the user experience for both web and mobile clients instigating a more synergised interface of the MindLink brand.
We've constantly made it a priority to put the user first, their experience with UI is paramount to us. Through a close feedback loop with our customers, we have quickly been able to on-board feedback and have now further improved the UI of MLD. As per our customers' suggestions, the new interface showcases a more professional and corporate theme than its colourful predecessor; as a business application, it drives productivity without any distractions all the while delivering a modern look and feel, giving you the power of a business application but with the familiarity of your consumer apps.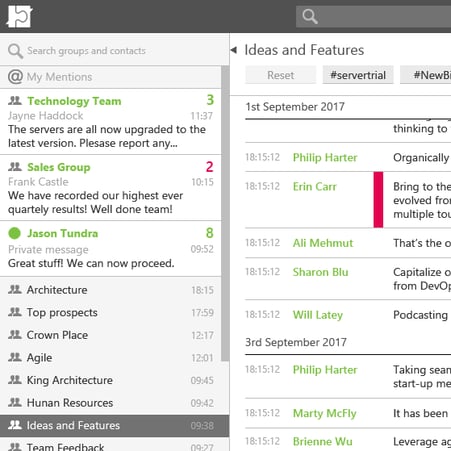 Our aim is to emphasise the content aspect (messages in the chat, graphs, photos, videos) as users are less likely inclined to be distracted by too many bright colours, content will be easily digestible inevitably leading to increased productivity and faster decisions.
This new look and feel is expected to be released end of November. Watch this space.