Pioneering, Encrypted, Mission-ready Chat Systems
MindLink's state-of-the-art chat platform empowers real-time collaboration for ultra-secure, mission-critical operations.
Try MindLink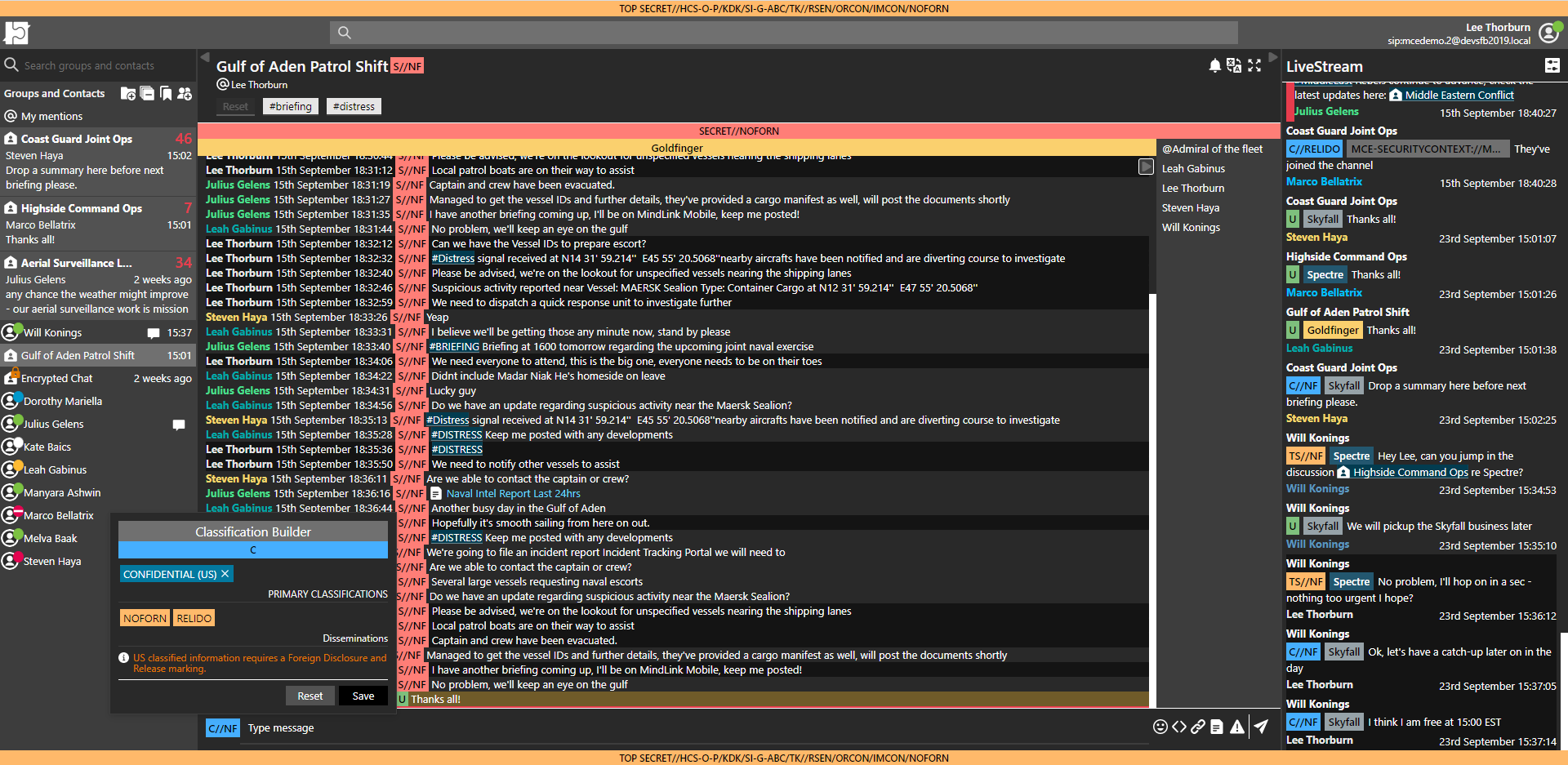 MindLink provides secure Persistent Chat rooms as an always-on collaboration backbone for mission-critical operations.
MindLink safeguards highly classified information through next-generation end-to-end encryption, military-grade access control and data classification.
MindLink is designed for key mission scenarios including incident management, real time ops, shift-based teamwork and inter-organizational collaboration.
Delivering mission-ready, ultra-secure collaboration to those fighting the battle to keep us safe
Mission Focused
A solution designed specifically to deliver capabilities for today's challenging mission environment.
Classification & Control
A unique data classification system that allows all chat and message content to be labelled appropriately.
Secure Communities
A sophisticated security architecture that separates data into secret "communities of interest".
Encryption
An innovative mechanism to encrypt chat data and manage the sharing of encryption keys with users.
Mission Features
The MCE platform is specifically designed to support critical use cases and ways of working across the modern mission theatre. Purpose-built mission tooling to achieve operational efficiency in real-time coordination, shift-based teamwork and incident management, usable from remote or forward-deployed positions.
Data Classification
Unique classification labelling of messages and chat rooms with clearance-based access control using government schemas such as CAPCO as GSCP at multiple classification levels. Native support for government-mandated information management practices as first-class security features of the chat platform ensures sensitive information is handled and shared effectively yet safely.
Communities of Interest
Security architecture based on the "Communities of Interest" paradigm to segregate users, chat rooms, and content into secure compartments. Integrated modelling of techniques adopted by the intelligence community prevent data spillage and restrict sensitive information to those with a need to know.
End-to-End Encryption
Innovative end-to-end encryption solution and zero-trust backend architecture. Mitigation against insider threats whilst retaining the organizational governance, data custodianship, and scalability for mass-participation, real time collaboration.
Persistent Chat
At MindLink, we understand and maintain the traditional concept of Persistent Chat. By building on top of the core values, we deliver best in class solutions for Persistent Chat.

MindLink enables and adds value to mission-critical use cases such as incident management, shift-based teamwork and inter-organisational collaboration.

Through our unique security, technology and data protection capabilities, paired with a user experience designed for high-volume messaging; we offer the tools organisations need, and users want.
LEARN MORE
MindLink is designed for highly classified communication for government agencies and partner nations