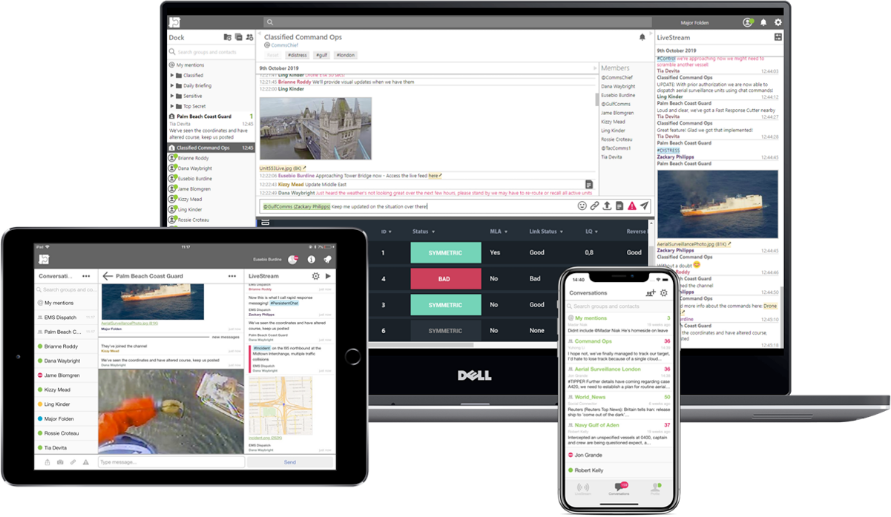 Mission Focused
A solution designed specifically to deliver capabilities for today's challenging mission environment.
Classification & Control
A unique data classification system that allows all chat and message content to be labelled appropriately.
Secure Communities
A sophisticated security architecture that separates data into secret "communities of interest".
Encryption
An innovative mechanism to encrypt chat data and manage the sharing of encryption keys with users.
Delivering Secure, Classified Mission Collaboration
Security Features
Full Access Web Client
Secure, Stateless Mobile Client
A best-in-class Persistent Chat platform for mission-critical messaging.
What is Persistent Chat?
Persistent Chat is a communication paradigm for real-time, high volume messaging across different teams and organisations, built on the following core values.
High-volume, real-time messaging
Supporting real-time coordination and collaboration and enabling users to absorb and dissect high volumes of important information.
Secure, Partitioned and Compliant Messaging
Ensuring messaging compliance, managed user access and data privacy between users, teams and other organisations.
Transient and Ad-Hoc Participation User Experience
Leave and join conversations from multiple active endpoints with notifications for members leaving and joining chat rooms.
Persisting and Searchable Chat History
Maintaining a performant index over chat room data for instant searchability and visibility for chat room members.
Lightweight, Flexible Design and Implementation
Designed and built to integrate with existing infrastructure and partner collaboration platforms.