London, UK – 20 July 2016: MindLink today announces the availability of its next-generation software & User Interface (UI), redefining how messaging & chat applications for businesses look and work. In addition it meets stringent data security requirements and regulatory compliance needs.

The redesigned messaging app makes sharing knowledge and retrieving information via chat easier and more powerful. It enables real-time collaboration of information without ever overloading the user and allowing access to knowledge in a highly structured and customised way.
"The new software & interface has been a significant investment for MindLink. We have increased our engineering capacity by 30% and have spent 6 months, end-to-end, to make this a reality", comments Harpreet Gosal, CTO at MindLink. "Close to 50% of our annual revenue was invested in developing our new GUI with our team using the latest, cutting-edge programming platforms and technology stacks to make sure our application is future and bullet proof."
The announcement comes one year after changes in the board and management including the appointment of a new CEO. In his tenure software revenues grew by 70% year-on-year, MindLink signed up some major resellers, got voted 'Collaboration Product of the Year 2016' by the Computing Vendor Excellence Awards and recently raised $1million in funding - all telling the growth story of a highly successful UK start-up and an answer to social and team messaging competitors who fail to meet corporate security & compliance standards. Today's product announcement is another step-change in our aggressive expansion plan.
Useful Reading: >> MindLink raises US$1million in funding to accelerate growth
Useful Reading: >> MindLink Crowned 'Collaboration Product Of The Year' 2016
"We have worked extremely closely with our corporate clients in financial services and beyond to ensure that we meet highest standards in terms of usability and functionality. It wasn't about cartoony consumer & social features, this was about corporate usability and efficiency – secure but user friendly tools for successful corporates", says Justin Forrest, CEO, MindLink.
MindLink's new software is marked by a visually engaging work interface that maintains enterprise-level functionality. Throughout its development, it was crucial for the team to deliver a user interface that would:
Keep it user-friendly
Provide a clear information hierarchy
Engage with attractive visuals without ever overloading the users
Working with clients and key financial firms, MindLink has captured and incorporated their feedback, ideas and efficiencies. The end product provides a visually engaging work interface on desktop and mobile that maintains powerful enterprise-level functionality: integration with internal & external systems via bots & connectors, regulatory compliance and some of the most advanced security features available of any chat & messaging tool on the market.
This comes on top of elevating UC platforms like Microsoft Lync & Skype for Business whose functionality MindLink now significantly enhances.
Useful Reading: >> MindLink's Secure Enterprise Messaging Integrates With Skype For Business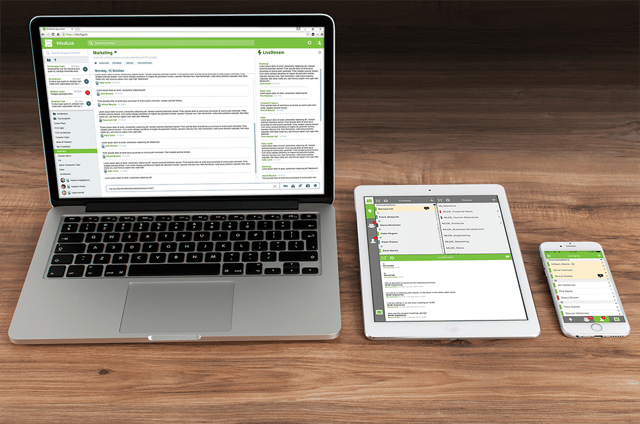 MindLink Desktop and MindLink Mobile - showcasing the new User Interface
Some of the core user interface features:
One-click access to all collaboration features – Instant Messaging, Group Chat, Voice (Coming shortly), Presence and File Archiving/Sharing, in one single interface without ever overloading the users
The LiveStream (a ticker-like personal filter feature) combines a user's most important feeds, conversations and projects into one easily accessible view
#Hashtags & @Mentions for threaded conversations and task assignment
Customisable and adjustable sections allow users to set up their work environment as complex or simple as they choose – fully controlling information intake and exposure
Search & Filters enable users to quickly find or be alerted to people or messages
The new software represents a breakthrough in usability for MindLink customers. The main objective of redesigning our interface was to provide our customers with the highest standards of user-friendliness. Launching the next generation of software stack isn't just about making it look 'slick and cool', it is about making information easier to find, integrating to streamline business processes and incorporating intuitive features and usage paths. All this will significantly increase user uptake and adoption, leveraging economies of scale & enabling company-wide roll outs to hundreds or thousands of users at a time.
"Our efforts are set to expansion and our revamped messaging app completes the first step of our global growth strategy", concludes Forrest.
MindLink was founded in 2011, is a Microsoft Gold partner and offers a fully rounded enterprise-ready messaging platform for businesses globally. The new interface has been released from beta and will include further major feature additions on a two week release cycle until autumn.
Also read: WhatsApp Adds Encryption – Is It Now Enterprise-Ready?
Also read: The World Has Gone "Chatbot" Crazy! What's In It For B2B?
Also read: Stop using compliance as an excuse for slow technology adoption!