Since the 90s email has been the main tool of communication between remote teams within the same company or even between different organizations which happen to reside on different time zones. Taking into consideration the pace of business today and the need for an ever increasing sense of real-time communication when working, is this enough?

Communication and collaboration are key in order to ensure success and making sure business is running as usual for organizations spanning across different countries, continents and time zones.
Communication comes in:
> Different tiers
> Levels of urgency
> Levels of complexity
(It is sometimes so complicated that Chinese walls need to be in place and different levels of access applied)
Chat & Messaging applications can help bridge and simplify these gaps; here we will concentrate on how this can be achieved with respect to remote teams.
Different levels of urgency
Nowadays business takes place everywhere in the world, 24 hours a day. People need to be informed in out-of-business hours of an event, alert or incident that needs their immediate attention. There are quite a few ways this can be achieved. People can use pagers, specialized calling and SMS services or customized email notifications. All these work well for urgent matters but are lacking in terms of control, customization and content integration.
It is difficult at best, to customize the way someone receives notifications and control them on a regular basis.
An example: You are working on project X for the next month and want to be receiving continuous alerts around that. You would have to set up new mailing lists and groups, create special alerts for that group using 3rd party software and so on. Other stakeholders need to be informed of this and they would probably need to take similar actions as well. When something is received, everyone gets an alert. Doesn't sound ideal, especially if people are receiving alerts and "noisy" information in out-of-office hours, something that would only lead them to either ignore messages and alerts or be forced to spend time on irrelevant messages.
Using an enterprise messaging or chat software, the above problem can be tackled quite easily. Depending on your internal structure of chat groups, a new group could be created for the new project or it could be added as a threaded conversation within the group of the team handling it. Specialized alerts –from within the chat application - can be set up in the new group or thread depending on the level of urgency, received content, sender or people mentioned.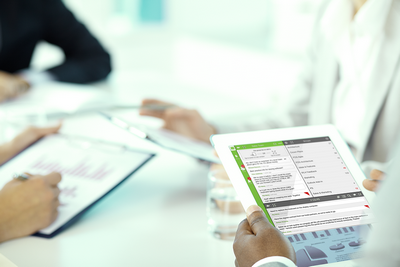 These levels of control can be applied on the finer levels or even on a global scale. They can span across both groups and individual conversations. This quick and easy-to-do setup ensures that individual team members can easily customize their chat application so that they're sure only to receive information that if they receive a message, it would be something that needs their immediate attention. For example, someone working on project X could, very quickly, set up their alerts so that they are only notified of a message if it is received in the project X group, they are @mentioned in it and/ or it is marked as an alert.
Strengthening the Real-time experience
As mentioned in the previous section, team members working in remote locations will often be notified of messages or events that need their immediate attention. This can happen at any time of the day, including times when someone has only access to the content via their smart phone or tablet and they're somewhere on the go. The resulting conversation/interaction from the initial alert could be something as little as a one-word reply e.g. answering a yes/no question up to the level of a full-on multi-hour discussion which could involve several team members/stakeholders. It could even be the case that the conversation is being picked up from a previous point in time.
In all of the above cases, people prefer it when they experience the whole process as a real-time conversation. This helps people keep up-to-date and get into and out of the conversation as quickly as possible. This is very important when you're collaborating via your smart phone in an environment that's not your workplace. It's not difficult to imagine how maintaining a real-time communication flow could be difficult using traditional tools and processes like email, intranet forums, tracking systems etc.
Who are the Hot Vendors in Group Chat?
A mature chat application can address this issue effortlessly. Conversations appear uncluttered, straight within their specific context. Real-time experience of the communication flow is achieved even if the conversation spans over several hours, days or even months! Messages and content can be sent and received quickly with immediate feedback on its status.
The real-time experience is strengthened when the chat application also provides presence status of the participants of a conversation. This gives an indication to the sender as to who is available on the other end therefore allowing them to tailor the content of the message to a certain extent. This is quite important in terms of saving time and reaching out to the right people at the right time.
Structured knowledge – timeline – persistence
When there are people working on different ends of the world, it is critical that all relevant information, knowledge and communication is readily available and well-structured. This is needed so that bottlenecks resulting from badly scattered knowledge and messages are eliminated, thus enabling teams to work at their full potential and capacity. Even if a team member needs to work out of office hours, they can be confident that anything they need is easily accessible.
Sure, there are tools out there for gathering knowledge and tidying it up so that it can be retrieved easily; they do a great a job at doing so. Despite that, very few of them integrate with enterprise collaboration and communication tools.
A well-developed chat application solves these challenges. Making conversations and content persistent through time while at the same time offering an easy-to-use way of retrieving any piece of information can immensely help dispersed teams. Using the same application as a communication and knowledge base can save time and make the end-user experience more pleasant and engaging. In fact, it saves time from manually uploading and organizing knowledge bases as each group of conversation is itself an independent knowledge repository. You can search for content based on key words, thread, group, time, sender, people mentioned in it and so on.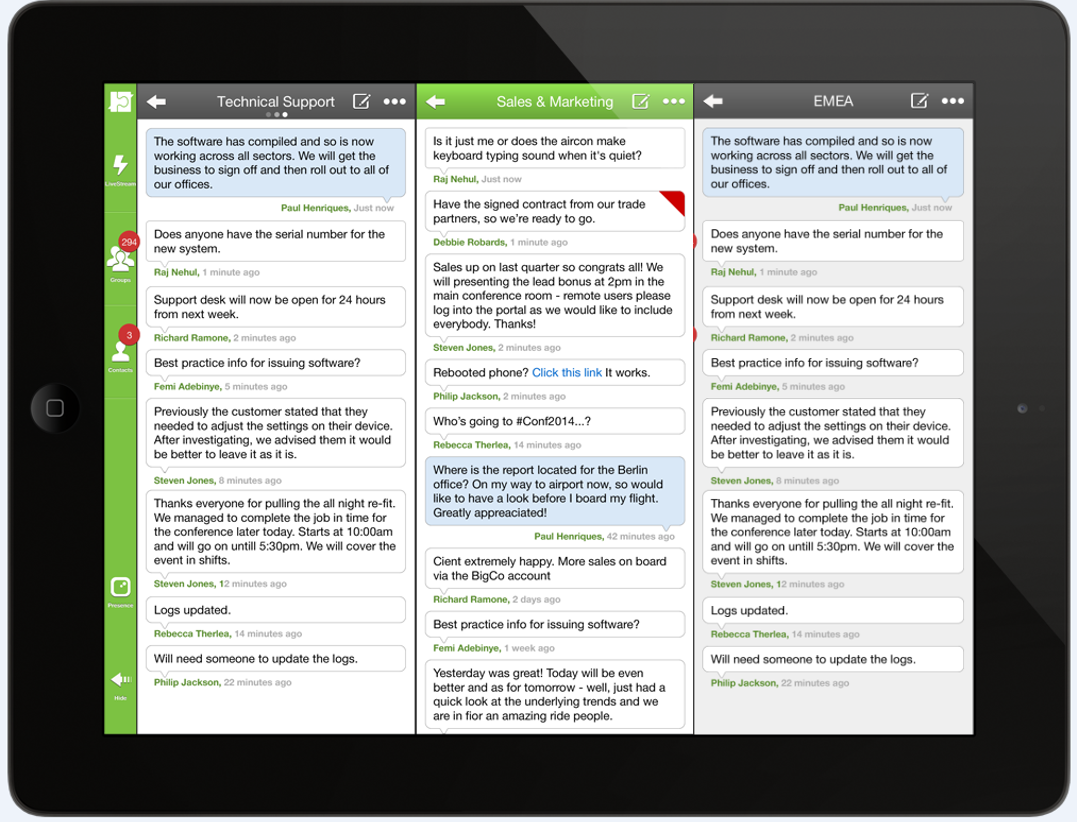 Let's bring it home
Running an internal chat and messaging software is becoming more and more popular for any type of organization. Looking at modern day challenges, it becomes quite apparent why it would be more than just a good idea to have a chat application in an organization that has teams, offices and people all over the globe. As conducting business and responding to new challenges becomes more and more fast paced, it is critical for organizations to incorporate the necessary tools to stay connected.
Keeping your teams and people in sync and providing them with the right means to communicate, respond to challenges and tackle problems is a must; and it can be painlessly achieved with the right chat enabled collaboration (#CEC) product!
Try using secure Chat & Messaging solutions in your business >> Create your free account
The Author:
George Christou is working for MindLink as part of the core software development team. More recently, he has taken responsibility of setting and heading up MindLink's remote software development office in Cyprus. He is a graduate of Imperial College London Software Computing.