Day In The Life of a Chat user - What's it like using Chat instead of Email?
Email vs MindLink: Cost-saving, improved productivity, better knowledge management.
On average workers check email 74 times per day (McKinsey Global Institute report), which means that the average employee spends 13 hours a week reading and responding to email. That's by far the most time-consuming work activity at 28% of our work time.
Digital tools have emerged to address the dreaded email overload with secure enterprise chat & messaging apps being at the forefront of the 'Email killer' brigade. 50% less Email, 10% more productivity…sounds impressive right? But what does it actually mean to you? The end user!
How does it improve your day-to-day work life? Is it really helping you to work smarter?
We have created a use case with real-life, relatable examples showcasing what a typical day would look like for, let's call him: John. John is just like you.
He works for a large corporate, earns a good salary, wants a promotion, juggles several projects, manages a small team and most importantly - wants to get the job done. He is your average hard-worker; ambitious, timely and focussed.
Here is a day in the Life of John using Email vs using Chat and juggling the below:
Managing projects & team work
Finding relevant information
Document management & version control
Remote working
Work/Life balance
And to round it all off we will summarize the tangible ROI at the end


Let's walk through John's day with Email vs a day with MindLink - and see how his life might change: Discover John's Journey >>>


Want a little more info about the Email problem first? Here is more:
Email is dying, it's plagued with irrelevant information & spam, it doesn't allow persistent communication and it's easy for important documents to get lost … it's also the reason why John cannot reach his full potential at work.

How many times have you written and sent an important email with an attachment to someone at work, only to go back and look for it 2 weeks later, searching for hours only to not find the email at all, as if you didn't write it in the first place?
Email overload and fatigue leads to work-stress, and work-stress leads to burnout and employee churn. The least John wants is to not get the job done, but this is a problem he shares with many.
The alternative is to provide John with a business chat collaboration platform so that he can work smarter, more efficiently, save valuable time, information and effort, making him feel valued by his company and valuable to the firm.
Let's walk through John's day with Email vs a day with MindLink - and see how John's life might change: Discover John's Journey >>>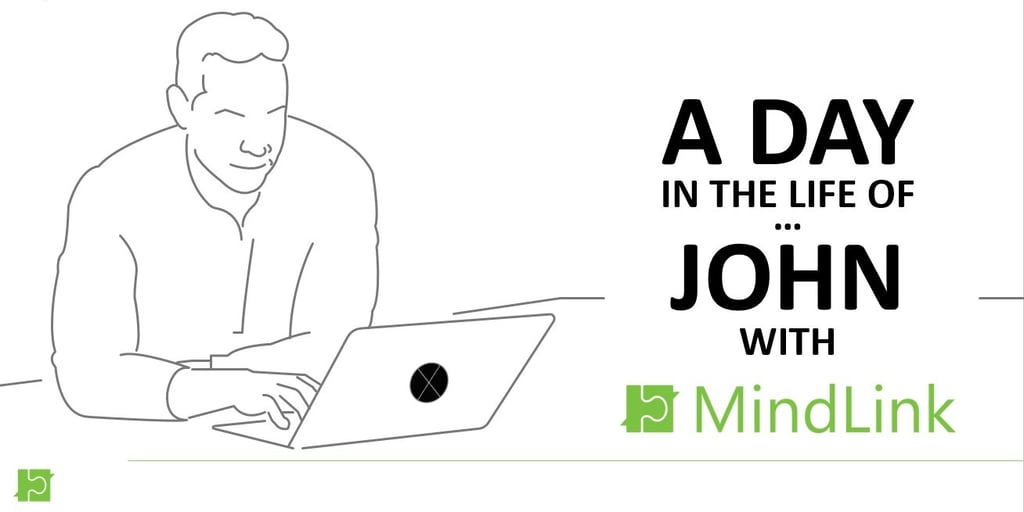 Useful Reading:
>>Blog: MindLink API - Your Bot Framework For Lync/Skype For Business On Premise
>>Blog: The World Has Gone "Chatbot" Crazy! What's In It For B2B?